By David Hutchins, Senior Industry Analyst
A new era of combat isn't rapidly approaching; it's already here. The availability and sophistication of drone technology are changing the nature of military operations. Just as the invention of gunpowder, tanks, and aircraft altered how wars were fought, drones are adding a new dimension to warfare. This article defines drones, provides both historical and contemporary context for their use in combat, and highlights what is still to come.
Defining Drones
Military drones — also referred to as Unmanned Aerial Vehicles (UAVs) or Remotely Piloted Aircraft (RPA) — are unmanned aircraft designed to identify, surveil, and sometimes engage targets. Drones have become an increasingly popular choice for both militaries and militias around the world due to their ease of use, relatively low cost, and ability to execute a variety of mission sets without endangering a human pilot. With the ability to gather intelligence, identify targets, and execute precision strikes, drones have become a vital military asset.
Historical Context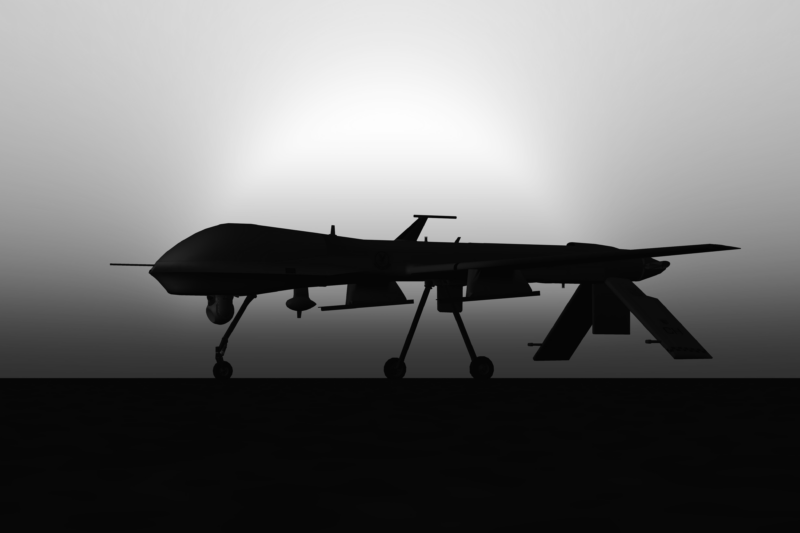 The U.S. military began using remote-controlled aircraft in the 1930s for intelligence, surveillance, and reconnaissance (ISR) missions, and later for deploying torpedoes and land-attack bombs. The ability to gather real-time intelligence over conflict-prone areas made drones a popular choice for the U.S. military in the post-Cold War era. Yet, it was during the Global War on Terror that the use of drones evolved to include target acquisition and elimination, becoming a staple of America's 21st-century military operations. MQ-1 Predator drones armed with precision-guided munitions became an iconic counter-insurgency weapon for the U.S. military. According to a Congressional Research Service report, the United States undertook over 14,000 drone strikes in Afghanistan, Pakistan, Somalia, and Yemen between 2010 and 2020.
Contemporary Use
The contemporary use of drones in combat is by no means proprietary to the United States. The BBC estimates over 100 countries and non-state groups have access to drones. Drones have proven to be an essential component of military operations during recent conflicts in Libya, Syria, Nagorno-Karabakh, Ethiopia, and Ukraine.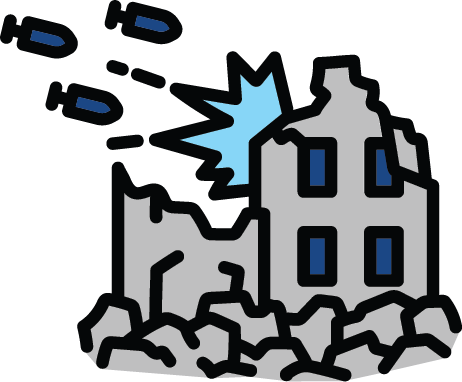 The conflict in Libya observed over 1,040 recorded drone strikes.
Syria was used as a testing ground for Russian drone operations.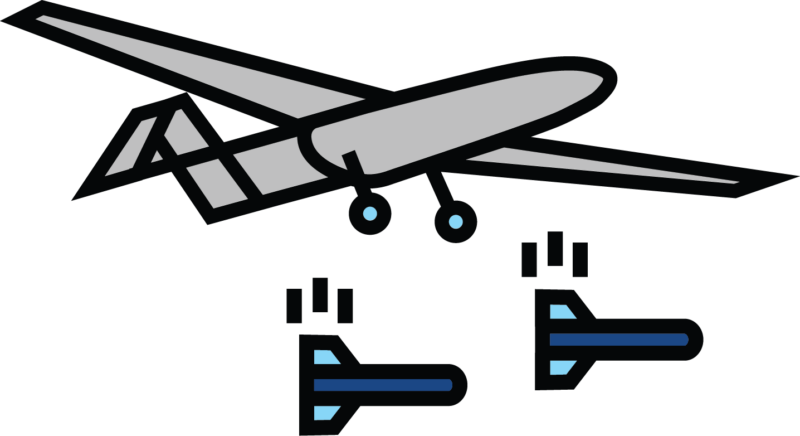 Turkish-made Bayraktar TB2 armed drones gave Azerbaijani forces an advantage over Armenia in the Nagorno-Karabakh conflict.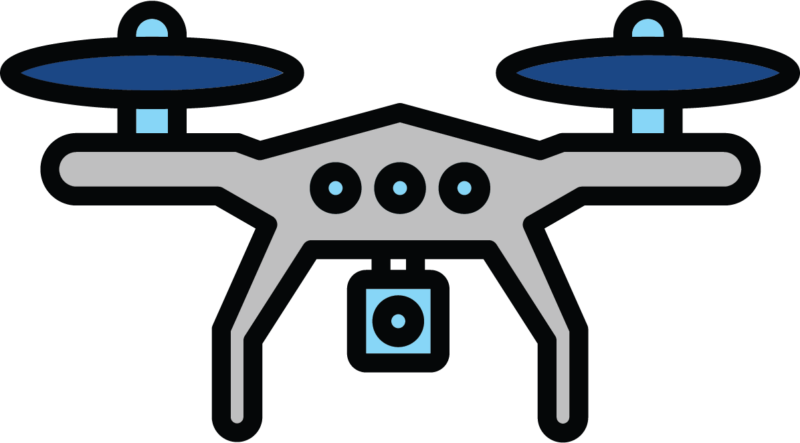 Ethiopian government forces used drones to halt the Tigray Defence Forces' assault on Addis Ababa.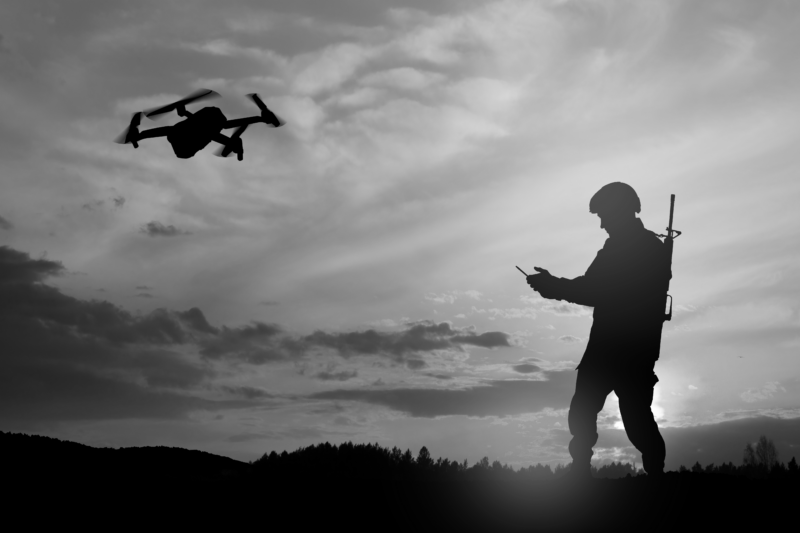 The conflict in Ukraine in particular has demonstrated the effectiveness of drones, which both sides have widely used in the conflict. Ukrainian forces have used both homemade and allied-supplied drones to target Russian positions, while Russian forces, having burned through stocks of conventional missiles, have increasingly turned to Iranian-made Shahed-136 drones to overwhelm Ukrainian air defense, knowing that the surface-to-air missiles used to shoot down their drones cost far more than the drone itself. The conflict in Ukraine provides a clear example of how warfare is changing and has demonstrated the advantages of smaller, cheaper drones.
On the Horizon
Advancements in technology, artificial intelligence, and autonomous capabilities are ushering in a new era of drone warfare. Testing is already underway to develop drone swarms — groups of smaller aerial drones capable of coalescing into a coordinated attack. Moving beyond aerial combat, drones are also being developed to aid military operations on land and at sea. Additionally, the increasing prevalence of drones also necessitates the development of counter-drone defensive systems.
Drone Swarms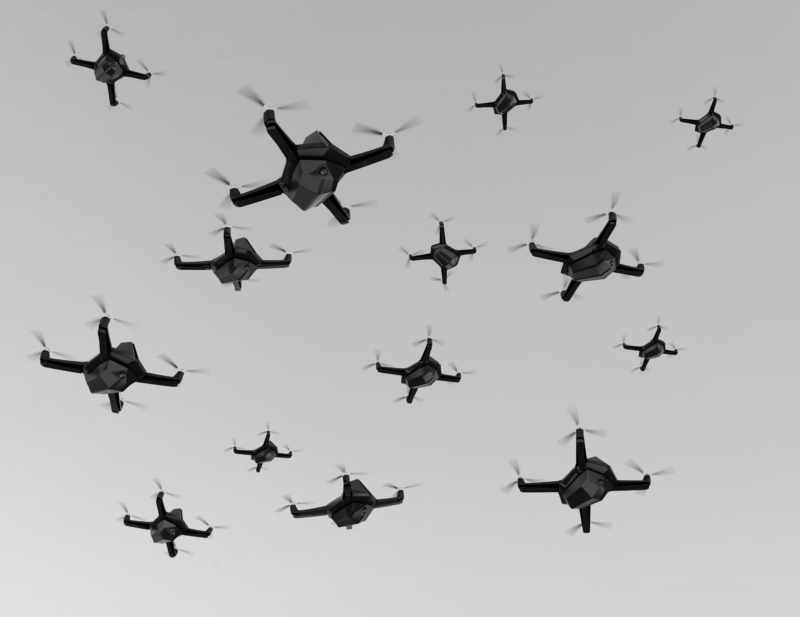 At present, drone swarms are only a theoretical concept, but one that is of particular interest to the Defense Department. Aided by AI, a fully autonomous swarm of drones operating in unison could bombard enemy infantry, destroy tanks, cripple sensors, and even sink naval vessels. Smaller, portable drones are also a fraction of the cost of cruise missiles and can prove difficult for modern air defense systems to target, especially when sent en masse toward a target. While larger drones of the past were more effective against enemies with little-to-no air defense systems, this advantage would be lost in the event of conflict with a peer adversary like Russia or China. Given the clear tactical advantages of drone swarms, the U.S. is not the only country pursuing this capability. China, Russia, Israel, Turkey, India, and the United Kingdom are also known to be developing drone swarms.
Drones on the Ground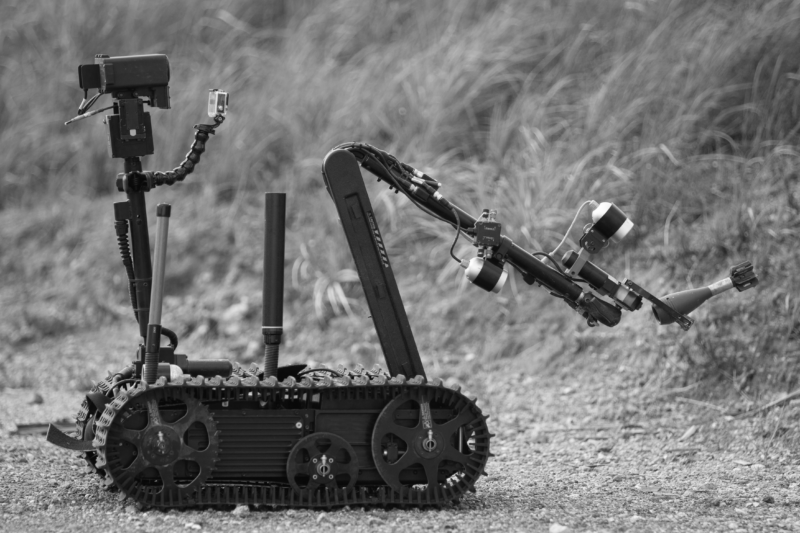 Robotics and AI will also soon give our warfighters an advantage on the ground. There are a variety of unmanned ground systems in development, some — like the CRS robot — are as small as a backpack and can be used for explosive ordnance disposal, while others — like the EMAV — are much larger and can carry heavy equipment or injured personnel, and be outfitted with offensive weapons. These unmanned ground vehicles, like drones, allow users to scout the battlefield and conduct combat operations while minimizing risk to the operator. The Army's Robotic Combat Vehicles (RCV) Program is experimenting with light, medium, and heavy RCVs as part of its family of next-generation combat vehicles. With continued advancements in AI, these vehicles may one day operate fully autonomously, patrolling bases and replacing tanks on the battlefield.
Drones at Sea
The U.S. Navy, Marine Corps, and Coast Guard are currently experimenting with uncrewed surface vessels (USVs) and uncrewed underwater vessels (UUVs). These versatile, robotic systems can be equipped with a variety of sensors, weapons, or other payloads, and can be operated remotely or semi-autonomously. These systems may even operate autonomously in the near future. There are numerous uncrewed systems in development with a variety of capabilities. Some systems, like the Navy's Sea Hunter, are larger and can track enemy submarines. Others, like the Coast Guard's Ocean Aero Triton, can be launched from ships, rely solely on wind and solar power, and can operate above and below the surface. A true game-changer in naval operations, USVs and UUVs can expand a fleet's ISR capabilities, greatly enhancing maritime domain awareness. They can also take on dangerous missions without endangering personnel. Moreover, these systems offer relatively low-cost alternatives compared to larger, manned vessels. Uncrewed systems will one day aid the Coast Guard in search and rescue operations, marine environmental response, port security, and smuggling and illegal fishing prevention. Designed not to replace current vessels but rather to augment and support their capabilities, these systems will ultimately alter naval tactics and fleet design. The Navy has its sights on a hybrid fleet that uses uncrewed vessels to supplement its manned force. The Marine Corps will also leverage uncrewed vessels to bolster its amphibious assault capabilities — particularly beneficial in the Indo-Pacific region.
Counter-drone systems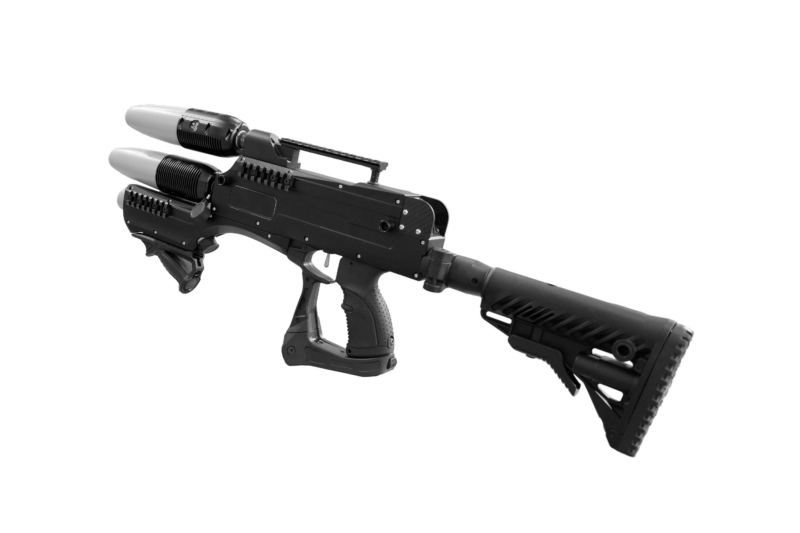 As drones rapidly increase in availability and sophistication, countering them has become a key challenge of contemporary conflict. Counter-Unmanned Aircraft Systems (C-UAS) — the countermeasures used to defend against drones — are especially prudent as traditional air defense systems can struggle to detect the smaller drones due to their size, construction material, and flight altitude. C-UAS also offers a sound financial alternative given the significant cost disparity for engaging smaller, cheaper drones with missiles. C-UAS can employ a number of methods to detect drones including sensors, radar systems, or a combination of the two. Once detected, C-UAS can disable drones through jamming devices, large airbursts, directed energy lasers, high-powered microwave systems, or other means. Some C-UAS, like the Lithuanian-designed EDM4S SkyWiper, are small enough to be carried by a single warfighter. These systems are already in use by Ukrainian defense forces. Other C-UAS, like the Marine Air Defense Integrated System (MADIS), can be attached to vehicles. The Navy is also equipping some vessels with C-UAS laser systems. Even the Department of Homeland Security is investing in C-UAS to protect critical infrastructure.
Final Thoughts
There are undoubtedly concerns about the future of drones in warfare. Their potential for fully autonomous operation and subsequent lack of human involvement has many worried. Also, the proliferation of drones could provide a "low-cost air force" for militia groups or nefarious actors. Despite these concerns, it is a near certainty that drones in the air, on land, and at sea will be an essential component of future conflicts. Ultimately, when integrated with existing military systems, drones provide a vital force multiplier for the battlefield and change how military operations are conducted.
---
For more on this topic, check out these articles:
Drones Over Ukraine by Andy Oppenheimer, Military Periscope
Drone Threat Spurs U.S. Army $200 Million Counter-Technology Research Effort by Andrew Dardine, Forecast International
The Tiny and Nightmarishly Efficient Future of Drone Warfare by Mark Bowden, The Atlantic
Drone Boats: Inside the U.S. Navy's Latest Unmanned AI Tech by Shelby Holliday, Wall Street Journal
---
For more topics and/or articles like this one please reach out to David on LinkedIn, or e-mail at dhutchins@govexec.com